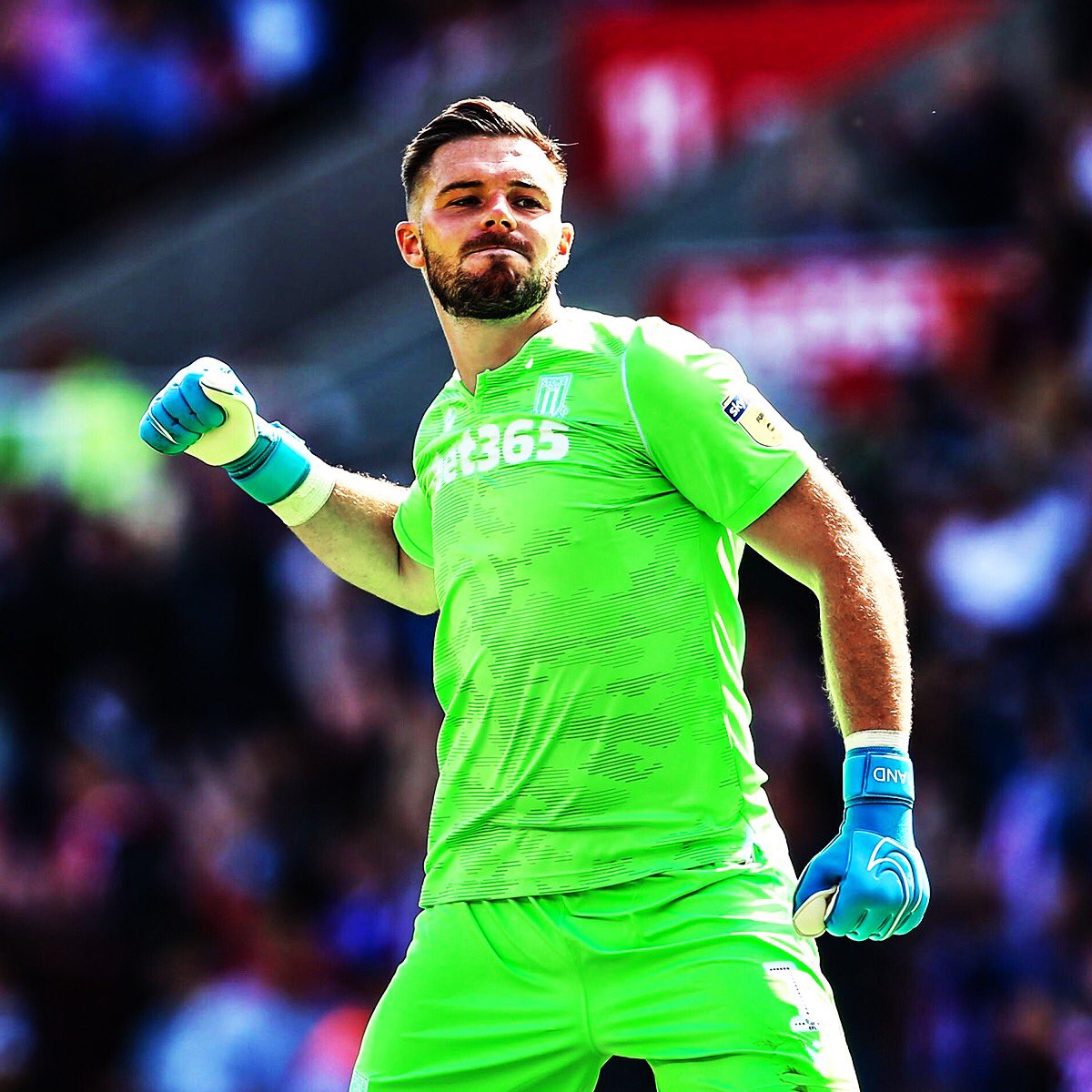 There was a time, not so long ago when I thought nobody would replace Thomas Sorensen, then Asmir Begovich came along. There was nobody I wanted in goal more than he during his reign until Jack Butland made his appearance.
Jack launched onto the national and internal stage with an explosion. He was an outstanding goalkeeper, he was destined for great things and he played for the club I've loved all my life following in the footsteps of other great goalkeepers like Thomas, Asmir, Peter Shilton and of course the legendary Gordon Banks. In the Stoke team he was something special, just watch that penalty save against Chelsea's Eden Hazard, it is a beautiful thing. It is something Gordon Banks would have been proud of.
Watching him play, I was absolutely convinced he would one day be England's goalkeeper and he would prove to be as good as Gordon had been decades ago. He was a joy to watch, he lifted balls from thin air, he reached balls he had no business reaching, he was a one man wall. He was selected for the England under 17's, England under 21's and finally into the senior squad for UEFA Euro 2012. Later that year he was first choice for the Great Britain team at the Olympics.
It all came crashing down on March 26th 2016 when he suffered an ankle injury whilst playing for England. An Injury that would plague his return for the next twelve months and would require three operations before he finally re-appeared in the senior Stoke team permanently in 2017, by which time the team were not the force they had been when he was injured.
One has to wonder how much we missed him. Lee Grant did a great job and he showed he had the skills as a top flight goal keeper, but he wasn't Butland. The Team that Jack came back to, lacked any confidence. Jack was returning to a firefight, he was barely fit, hadn't played for months, had tried and failed to come back sooner and must have wondered every day if his ankle would hold. He never really came back to be the same keeper he had been before his injury.
I don't blame Jack, he was launched into a squad that was poor, that couldn't play as a team, he needed people to help build him up and restore his confidence instead he was met frequently with complaint and criticism.
Would we have gotten back the old Jack if he returned into a successful, confident team? We will never really know, but I do believe that we all had a piece to play in his recovery or lack thereof.
I think of the situation like this… when something is not going well at work, you are called in to the office, your boss tells you he knows that you can do it you just need to focus, the harder you try the more mistakes you make, the more mistakes you make the more you are watched and monitored, the more you are watched and monitored the more mistakes you make. It becomes harder and harder for your boss to keep you doing that job – now imagine that with 26,000 people watching you make those mistakes. It's not that you can't do the job, it's just that you can't do the job in those circumstances in that place at that time.
Jack Butland was an outstanding goal keeper and I believe that he will be again. He was magnificent when Gordon Banks passed away and I am absolutely gutted that he has to leave our club to find his way. I truly hope that he does find his way, that he becomes the Jack I loved to watch once again. I hope he proves all his critics wrong.
Thank you for the joy you brought, for everything you did for Stoke City, for the work you did in Stoke-on-Trent and thank you for saving that Eden Hazard Penalty – I was there, we all were there. Once a potter always a potter – We'll be with you.
Good luck Jack